Invest in your health

ProLon® 5-Day Fasting Mimicking Diet® can support your body's healthy aging, promote cell-based renewal, kick start weight loss, support your metabolic health, & so much more. Take 5 days this month to invest in your health.
Order Now + Free Shipping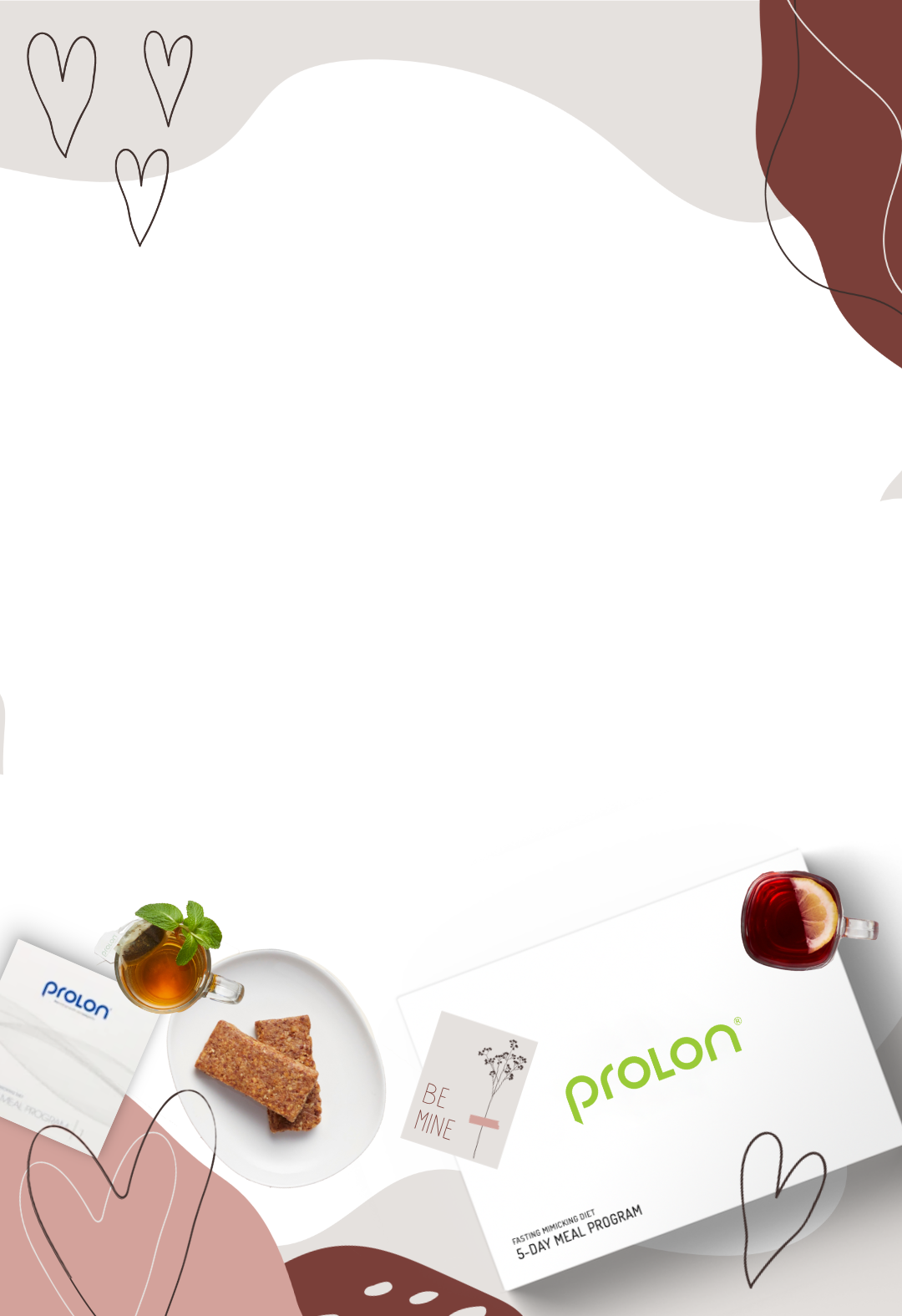 ProLon® Fasting Mimicking Diet®
#selflove is educating and understanding the benefits of ProLon® — How 5-days a month with ProLon can support your body's healthy aging, promote cell-based renewal, kick start weight loss, support your metabolic health, & so much more. Show yourself some love and give ProLon a try!
Order Now + Free Shipping
The ProLon Fasting Mimicking Diet® (FMD) can transform you and bring about real healthy change, both inside and out. You can lose weight and belly fat, rejuvenate your cells to support healthy aging, and kickstart healthy eating habits*.
How Does ProLon
Work?
ProLon is unlike any other diet program. The tasty, specially designed food gives you essential nutrition but doesn't activate your body's food sensing system. In other words, you get to eat, but your body "thinks" it's on a 5-day fast.

Essentially, it's a "fast with food." If that sounds easier than fasting by starvation, that's because it is.

What makes ProLon so special is, simply put, the science. It's based on over 20 years of scientific research sponsored by the National Institutes of Health and the USC Longevity Institute.

Order Now + Free Shipping
Unlock the Transformative Benefits of the Fasting Mimicking Diet®

Healthy
Aging
Triggers the natural process of cleaning and rejuvenation of your cells, which supports healthy aging.*

Kickstart
Healthy Habits
Change your relationship with food, reduce your food cravings and gain better portion control.

Enhance
Performance
Improve your mental clarity, focus, and energy.

Weight Loss
Results
Kickstart weight loss (on average 5 pounds), especially belly fat, while protecting lean body mass*.
The ProLon Fasting Mimicking Diet ProLon helps unlock the deepest level of fasting


The program triggers "autophagy," your body's natural way of cleaning house. Your cells clean and recycle old and damaged parts, resulting in a profound benefit: cellular rejuvenation.
Transforming to
a Fasting State

The body transitions into a fasting state & fat-burning mode so it can begin cellular clean-up.
Fat Burning & Ketogenesis

Fat-burning ramps up, contributing to the initiation of ketogenesis (ketone production). By the end of this day (48hrs), ketosis may occur.
Autophagy
Clean Up State

Cellular clean-up (autophagy) begins. Fat-burning and ketone production/ utilization continues and increases.

Cellular
Rejuvenation

Cellular cleaning/renewal & fat-burning continues. You're in the final stretch!
Renewal & Change

Fast completed, cellular renewal continues beyond Day 5.

What fellow fasters have to say*
I'm eager to try fasting,

but I am skeptical about it. When I've heard about ProLon from a friend of mine, I immediately engaged myself. Good thing I followed the instructions and was able to fast and diet for 5-days. Though it's hard at first, it is worth it.

Aria Luna
This was my first 5 day.

I was amazed about how I was rarely hungry and how much energy I had. Highly recommend!!

Michele Kehrer
Round 2 please.

What a wonderful plan and support team. I was nervous and a little skeptical but am so glad I made the decision to try this. I can't wait to start my second one.

Mariah Wilt CPC
The best fasting product out there.

Very healthy, I felt renewed and ready to continue my journey to a healthier me.

Monica Monroy & Jonathan Garcia
I love this intermediate fasting protocol.

Works wonders in wellbeing and byproduct of loss of weight. The packaged items are nice tasting as well. I have already done this protocol about 4 times in the last 6 months.

Sunil Bharitkar
I would have not thought I could do a 5-day fast,

but this FMD was perfect for me. Although there were times I was hungry, I never felt the urge to cheat and had a very successful "fast". I lost over 5 pounds, but more than that I gained so much knowledge. It's easier now to want to eat healthier; even just small tweaks...

Colleen Frazier
Great diet.

Second time. Got easier. And the results are amazing - lost 4kg (9-10 lbs) in 5 days and I feel great.*

*Results are not representative and individual results vary.

Elad Shoushan
The Only Scientifically
Tested Fasting Diet®
ProLon is the first and only clinically tested, doctor recommended fasting meal program. ProLon's breakthrough nutri-technology was researched for over 20 years and developed by Dr. Longo at The Longevity Institute at the University of Southern California with tens of millions of dollars in funding support from the National Institutes of Health. In 2018, TIME nominated Dr. Longo as among the top 50 most influential people in health.
Order Now + Free Shipping